1381 Replacements
The elusive MN1381 chips is the basis for many BEAM circuits, notable the 1381 SE and the very efficient Miller SE. However, these chips are quite hard to come by and the question of alternatives comes up very often. An important feature of all these chips is the very low supply current or current drain, typically around 1µA.
On this page I try to compile a list of 1381 equivalent chips from various manufacturers. Many of these manufacturers also have free sample programs for you to experiment with. It's time to flush out all of these timid chips and put them to good use.
Note: I have compiled this list from various sources and mainly from cross references and compatibility charts of the manufacturers. I am not an expert at reading data sheets so I probably have some serious errors here. If you notice such errors please let me know and I will attempt to fix them. If you know of other alternatives, I will add them to the list.
Also, the layout of the page will probably change and improve as I learn more about using HTML forms.
Choose the 1381 flavor of your liking and the equivalent flavor of the other chips will automatically be displayed. When there is no equivalent, the N/A (not available) entry will be shown. Each chips also contains all its various flavors including ones that may not correspond directly to any 1381 flavor. Naturally, always check the data-sheets if you need very specific behavior.
The package image shows the various IC packages with their approximate relative scale at about 400% and 100% their true size.
---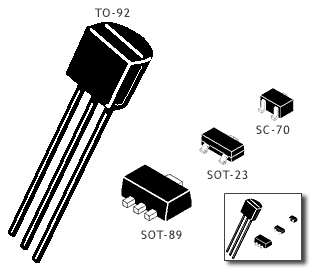 Panasonic - MN1380 Series
---
Microchip/TelCom Semi. - TC54
Web page, datasheet (alternative).
---
Fairchild Semi. - ILC5062
---
Coming soon...
MAXIM - MAX6375-MAX6380
MAX 63__ _R__-T
---
Zetex - ZXCM209
---
Torex - XC61C Series
Web page, datasheet 1, datasheet 2 (low voltage)
---
Ricoh - R3111x Series
---
Seiko Instruments Inc. - S-808xxC series
and more...